Is it sane to assume that Outline View should show text without syntax (and without styles, of course)?
Let's say I add a link to the document and give it a name using markdown. That way I could clearly indicate what the link is about. Also it won't occupy two or more lines.
Here goes my _thinking technology_©.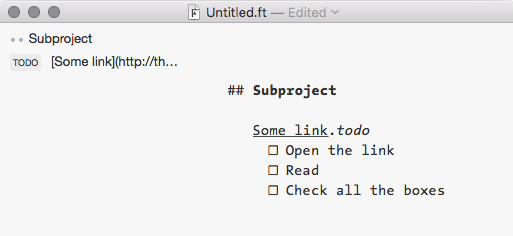 If I need to do something with this link I add .todo to the end. Now the tasks under this link are clearly related to it. The thing that bothers me is that in the Outline View goes naked markdown.
P.S. I moved my projects back to FT from TP3 because I need markdown. With Outline View this move was much easier. Thank you.